Backlot
Since the earliest days of cinema, Malta has served as a place of endless movie-making possibilities in terms of its seascape, landscape and built environment. Initially drawn here by the blue waters of the Mediterranean, filmmakers quickly realised the potential of Malta's historic architecture and geological features upon which to superimpose a wide array of narratives. Throughout the decades, Malta grew a sizeable service industry in response, skilfully catering to the needs of film crews while pulling a veil over its own identity. Cloaked in a multitude of guises - from unspecified corners of ancient empires to modern-day settings - Malta has only rarely appeared on screen as itself.

Backlot deconstructs and reimagines this island nation Cinecittà and examines how Malta's malleable landscape and host of resources are used in the creation of fiction watched by audiences the world over.

Combining video work, installation, found objects and site-specific intervention, Backlot seeks to highlight film industry practices, their impact, and tropes while playing with notions of erasure, disguise, and the co-opting of Maltese cultural touchstones in service of another's story. Through the assemblage of authentic fakes, the juxtaposition of film montage and immersive installation, this re-created 'backlot' is a celebration of Maltese craftsmanship and a playful abstraction of the film industry that continues to visit our shores.

Utilising the skills and services of individuals who work in film in its own creation, Backlot intends to refocus our gaze on Malta, not as a set, but as an internationally known actor, finally in the leading role.


Hook, Line, Sinker
Shark Bait (Dir. James Nunn, 2022)
Courtesy of the Malta Film Commission

An iconic film creature, famously the star of Jaws and emblematic of Universal Film Studios. A permanent presence in Hollywood theme parks, (and Popeye Village at one point) sits shining in all its glossy fibreglass glory. Removed from the film set context and mounted as a sculpture, its past roles as the peril of the sea in multiple films seem faintly comical. Yet the open water disaster movie has made its home here for decades, often based in the tanks at The Malta Film Studios in Kalkara that offer a vista of unblemished blue horizon beyond.





Strategically Hung, 2023
Charlie Cauchi
Fabric, Wood

Laundry hanging on a line is an ever-present film fixture - offering texture, life layers and atmosphere to street scenes regardless of era or country. Yet, like everything that appears before a camera, it's deliberately placed. No on-screen laundry is casual, and strategically hung sheets or clothing obscure undesirable details that give away modernity when it's not required or hide recognizable indicators of locale.





Strategically Hung, 2023
Charlie Cauchi
Wood, fabric, video work, props courtesy of the Malta Film Commission

Throughout the eras, the market scene has been a key location where characters engage in story-propelling dialogue, chase or are chased and as an identifier of place and time. The structures built for these stalls are largely the same across genres, and in this interpretation, each one houses a cacophony of market scenes from Cutthroat Island (dir. Renny Harlin, 1995), Gladiator (dir. Ridley Scott, 2000), Agora (dir. Alejandro Amenábar, 2009), Assassins Creed (dir. Justin Kurzel, 2016), and Jurassic World Dominion (dir. Colin Trevorrow, 2022). From the souks of medieval North Africa to the present day, the piling high of tables with goods are an identifier of time and place, and the work of local prop buyers, set dressers, breakdown artists and construction teams.





Cave of Celluloid Dreams, 2023
Charlie Cauchi
PVC Canvas, props courtesy of Oliver Mallia

The sea and its adjacent landscape are one of the chief reasons the movies initially came to the Maltese islands. From The Bedford Incident (dir. James B. Harris, 1965) to Captain Phillips (dir. Paul Greengrass, 2013), the coastline is, and remains, crucial to the local film industry. While the fabric of the island itself often fits an aesthetic brief, the realities of shooting on location can be inconvenient. The real must sometimes be reproduced as accurately as possible, and in a controllable environment for endless retakes. Documented sea cave walls surround a handmade version of themselves and while the illusion holds for a moment, once the take is over the lights come up and the director watches it back.





Post-Production, 2023
Charlie Cauchi
Blue Screen fabric print

A blue canopy lowers the ceiling, cropping the frame and offering the possibility to replace it with a more fitting sky/ceiling/feature/dragon. "We'll fix it in post" is a solution to the realities of shooting in a location that isn't quite as production designers may have envisioned.





Video Village, 2023
Charlie Cauchi
6 channel audiovisual installation, bottles, director's chairs

The beating heart of a set, populated by those at the highest echelons of the filmmaking act. Video screens relay a camera's capture and decisions are made. Five screens simultaneously display mashups of Malta's film history, never quite managing to reach their conclusion. A sixth screen asks: Did the take in the cave capture the right feeling? Reset, reset, reset.

In the pursuit of creating temporary worlds, the question of sustainability arises. The timeframe, and often varied locations within which films are shot demands convenience when it comes to catering to the armies of film crew. Inevitably, with convenience comes waste - and this is not always limited to the crafts table. What goes up, must come down, and where it goes after that is no longer as urgent a question as delivery time.





Under Wraps, 2023
Charlie Cauchi
Luster laminated photographic vinyl

France, Turkey Libya, Italy - the list of countries Malta has doubled for is a long one. Sometimes, the country is unspoken, and Malta appears as a vaguely Middle Eastern locale. In the overlaying of these stories of other places and times, Malta's own national story must be hidden or outright deleted to make room. Figures instrumental to Malta's past and present may have earned their place in our squares and piazzas, but before the cameras roll, they must be draped in a cloak of blue screen to be digitally erased later.





Epic Proportions
Agora (Alejandro Amenábar, 2009)
Courtesy of the Malta Film Commission


Enter the 'Sword and Sandals' epic - a mainstay of the Maltese film industry. Whether the island's honey-coloured landscape must become ancient Egypt or Rome, it is the Maltese artisan who provides the statuary, the columns, and the stone carving. Entirely hand-sculpted props, the result of hours of skilled labour, are fundamental to a believable switch in time and place. Post-shoot, they languish in storerooms, or are reused for yet another set, ignominiously transported in the backs of trucks for another moment in the limelight.




Logħba Amerikana, 2023
Charlie Cauchi
Polythene


The prison drama, Midnight Express (Alan Parker, 1978) may have been set in Turkey, but its Maltese shoot location is particularly evident in one famous scene. A Turkish security guard examines the bag of the protagonist and does so speaking entirely in Maltese. Upon discovering a frisbee, his colleague describes in Maltese too, remarking upon it as: "an American game, baseball." An assemblage of frisbees collectively represent this moment of linguistic confusion. On a plinth, located just to you left, an identical copy of the one which appears in the film.





Mediterranean Anywhere, 2023


Fabric



In 1970, Malta served as the sole location for Eyewitness (aka Sudden Terror, dir. John Hough, 1970) . The thriller, directed by John Hughes and starring Mark Lester, Susan George and Lionel Jefferies, largely made use of Valletta and its environs although the name of the nation it takes place in is never mentioned. Yet identifiably Maltese references are present. Kinnie umbrellas are seen in outdoor shots and background actors can be heard speaking in Maltese. The Maltese flag makes an appearance but in an altered form with a modified cross in a different arrangement of red and white. A textile work reflects this appropriation, again twisting the film's faux flag into yet another configuration. How many versions of itself can one country be?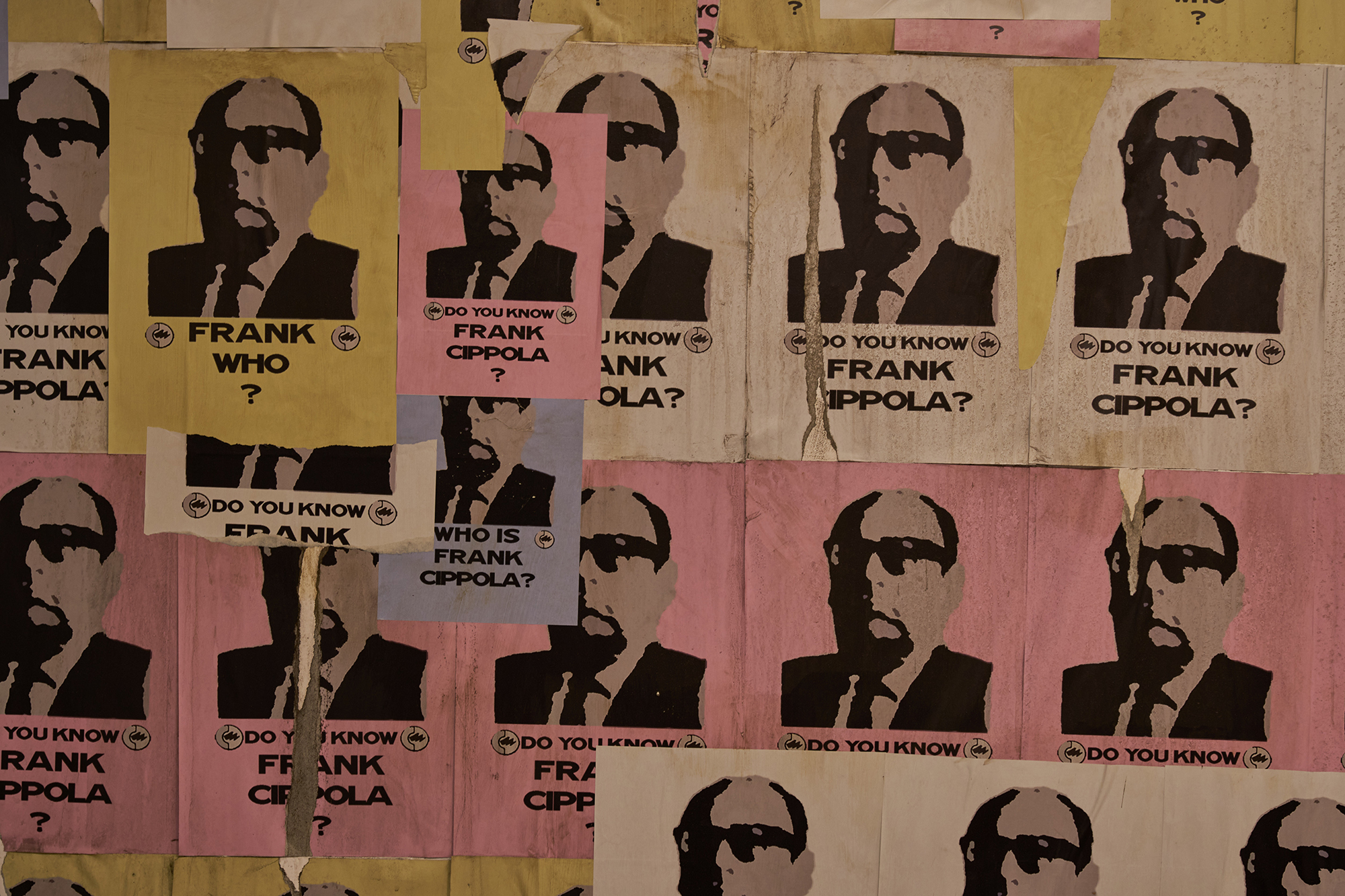 Pulp Fiction, 2023
Charlie Cauchi
Poster prints

Pulp (dir. Mike Hodges, 1972), is a thriller comedy starring Michael Cain and Mickey Rooney, and was almost entirely shot in Malta. Facilities were provided by the then Malta Film Facilities and Intermed Sound Studio, later known as Britannia Film Sound Studios. Cain's character, a pulp fiction writer, lives on an unspecified sun-drenched island that appears to be in the run-up to an election if the posters in the background are to be believed. Frank Cippola is an entirely fictitious character, who never appears on screen in person, but given his distinct resemblance to one of Malta's key political figures, and faintly, but not-quite-Maltese name, Malta seems to have provided inspiration while never revealing its true identity.





Scenes From a Marriage, Part 1
Playboy Magazine, 1969

Can Heironymus Merkin Ever Forget Mercy Humppe and Find True Happiness? is a 1969 British musical film directed by and starring Anthony Newley. Shot in Gozo, although set in an unspecified sunny isle, the film's erotic theme was entirely at odds with the Maltese Islands' conservative culture at the time. Playboy magazine dedicated an entire issue to publicising the movie, yet Playboy remained unavailable to buy in Malta until 2001. Joan Collins, Newley's co-star and then wife, cited the shooting of the film as instrumental to the breakdown of their marriage.





Scenes From a Marriage, Part 2
Props courtesy of the Malta Film Commission and Oliver Mallia

By the Sea (Angelina Jolie , 2015) starred then-husband and wife actors Angelina Jolie and Brad Pitt and was shot on Gozo, in Mġarr-ix-Xini. The film preempted their very public divorce - you can literally see their marriage falling apart on screen. Doubling as somewhere in France, Gozitan rubble walls blur by as the two lead characters drive to their fictitious luxury hotel. Built from the ground up in the cove overlooking glittering waters, the hotel was populated with custom objects to breathe life into an imaginary world. Insignia-ed bathrobes, antique and antiqued fittings - no detail was overlooked and the only trace of Maltese identity remaining appears to be the shape of the coastline. As a gift to the crew, director and actor Jolie commissioned custom ashtrays bearing the hotel logo.